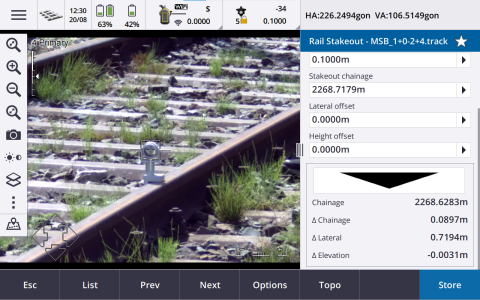 Trimble Access Rail module Stakeout
Software for alignment-based field measurements. Based on the measurements made by Trimble total stations or Trimble GNSS receivers, differences between actual and design according to the track alignment are displayed directly in the field. Target values for chainage, lateral distance and height offset can be entered manually or selected from a list. The calculation can be done horizontally or in a superelevated (canted) system. All points as well as the track alignment with its track main points are displayed in the interactive map.
The track alignment is described by the horizontal alignment, vertical alignment, cant alignment (superelevation), and optionally a chainage line. In addition to common track alignment elements, special transition curves as well as track shears are also supported.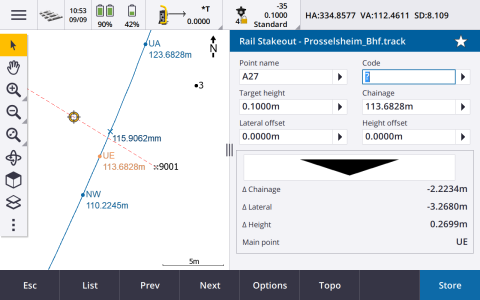 Digital data flow from the office to the field

Alignment-based measurement with real-time information in the field

Calculation either horizontally or in a superelevated (canted) system

Support of all common track alignment elements

Total station and GNSS-based data capture for reliable positioning

Data check at the office in advance optimizes work in the field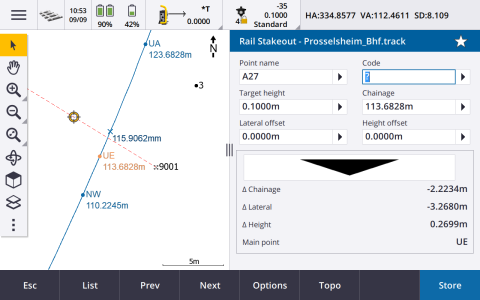 Stakeout of track design position with lateral marking points

Stakeout of switches

Stakeout of platform edges and other objects relative to track alignment

Control measurements

Setting up short sections of track (low daily output rates)

Checking of distances

Preservation of evidence

Data capture for the creation of stakeout reports