Trimble® 4D Control™ (T4D) version 6.4 software introduces the first add-on module to the platform. The T4D Rail module offers a versatile rail monitoring solution that meets the industry's demanding requirements for accuracy and efficiency. The use of the module within a Trimble product ecosystem will significantly simplify the integration of field work results and eliminate up to 95% of the office work required to detect movement with confidence.
Released on December 6, 2022, Trimble 4D Control (T4D) version 6.4 is now available. Visit our T4D webpage to learn more, read our release notes, and download here.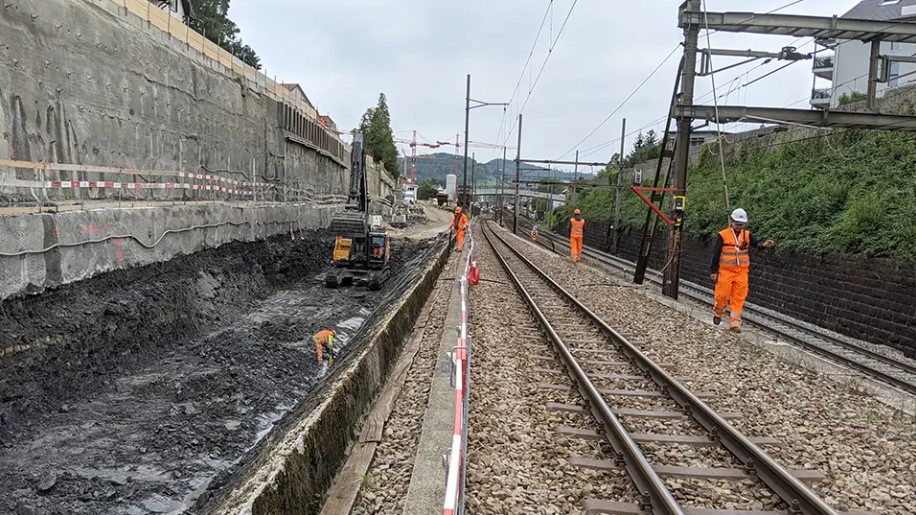 Rail Monitoring Overview
Rail monitoring is a critical component to ensuring safe and continuous rail traffic, and it has typically required a substantial amount of manual data collection and calculations. Often rail monitoring is an activity that plays a critical role in the support of rail line operator safety during construction projects on or close to existing railroad tracks. Frequent rail monitoring can also help identify track changes caused by activities such as tectonic movement, heat waves, and other environmental conditions. Conventional methods used for rail monitoring are time consuming—requiring multiple surveyors to manually collect each point along the rails—and often cause disruption to traffic flow and pose a potential risk to workers. In addition, complex calculations for large amounts of data are typically managed manually, impacting efficiency.
Trimble's purpose-built T4D Rail module presents a streamlined total station-based rail monitoring workflow. Florian von Matt, a Trimble Monitoring customer and geomatics engineer at Wild Ingenieure AG in Switzerland said, "This unique solution provides a comprehensive perspective and a great opportunity to standardize rail monitoring data and deliverables. The T4D Rail module is simple to understand and will make work much easier for stakeholders that need to interpret and prepare data for analysis."
Informed by current rail authority standards, the module allows professionals to meet comprehensive deliverable criteria. The automated process reduces field time, repeat site visits, rail traffic disruptions and improves worker safety. Along with this, the software module provides real-time alarming for early awareness of critical impacts to support informed decision-making. This module allows more professionals to adopt rail monitoring as part of their business and for the work to be completed efficiently while meeting rail project standards.
The rail monitoring basics
With rail monitoring, it is not enough to know that prisms have moved. The movement of prisms along both sides of the track need to be considered together and related to the actual rail track position. These components are essential to determine if the track itself has moved and what that movement means for rail transportation safety. Before users can monitor the track's movement accurately, the initial track position and shape—also known as rail track geometry—need to be determined.
A rail as-built survey captures the original state of an existing track and is used to relate any detected movement of permanently installed prisms to changes in the rail track geometry. These changes will be quantified by several rail track parameters, such as cant, twist, versines, and displacements.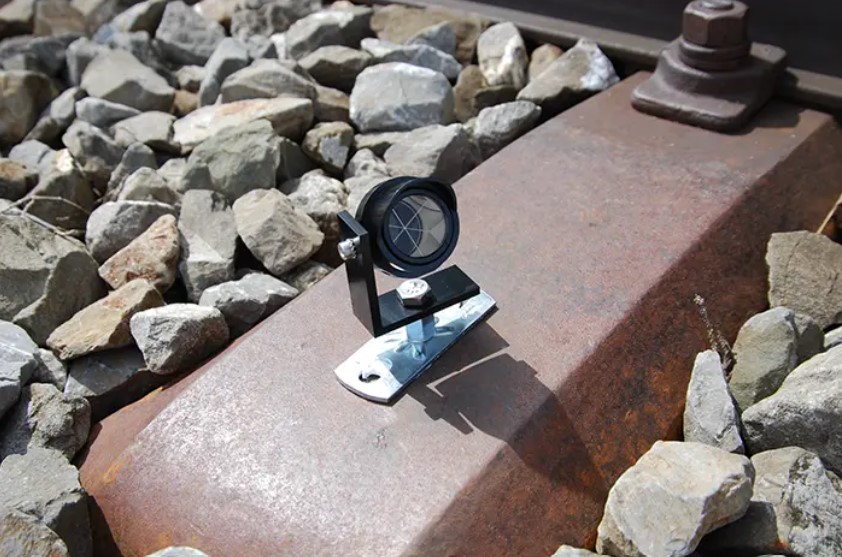 Create & integrate accurate rail as-builts with ease
In order for rail monitoring results to provide support for informed decision making and safety, a rail as-built survey needs to be very accurate. When using installed prisms, the vertical and horizontal offsets from each prism center to the top of the rail need to be precisely measured and recorded. Due to the significant amount of effort required for this process, many professionals simply measure the offsets of a couple of prisms and apply the same offsets for the rest. The prisms then are installed as similar to each other as possible, so their blanket offset assumption is not too far off. Moreover, each chainage—a prism pair on each side of the track—needs to be noted and manually configured.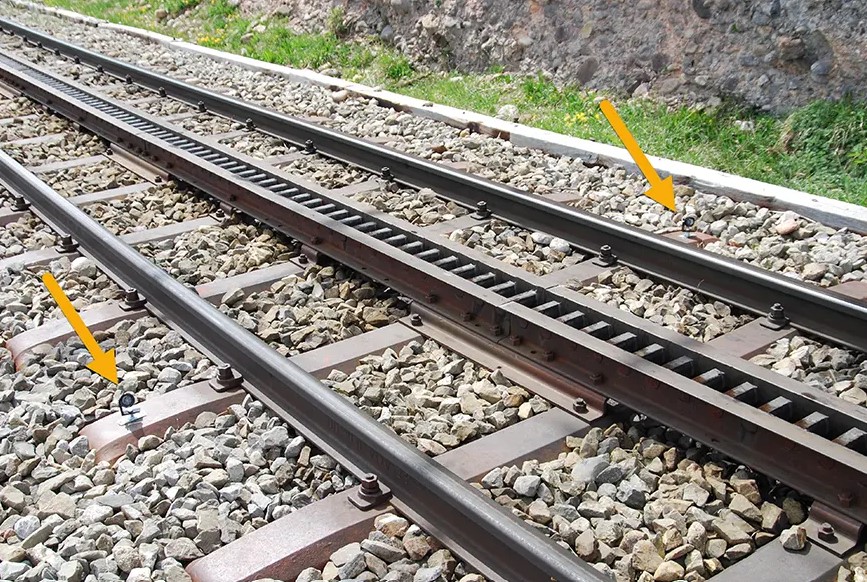 The new T4D Rail module simplifies this process and makes it possible to take advantage of a connected Trimble ecosystem, making field work more efficient and more accurate. Users can leverage alternative rail as-built survey methods—the Trimble GEDO system or with the track measuring bar (also known as the track gauge bar) paired with the Trimble Access™ Track Gauge Survey app—that are simple and sophisticated. T4D Rail seamlessly integrates with these as-built methods, to create a comprehensive monitoring system.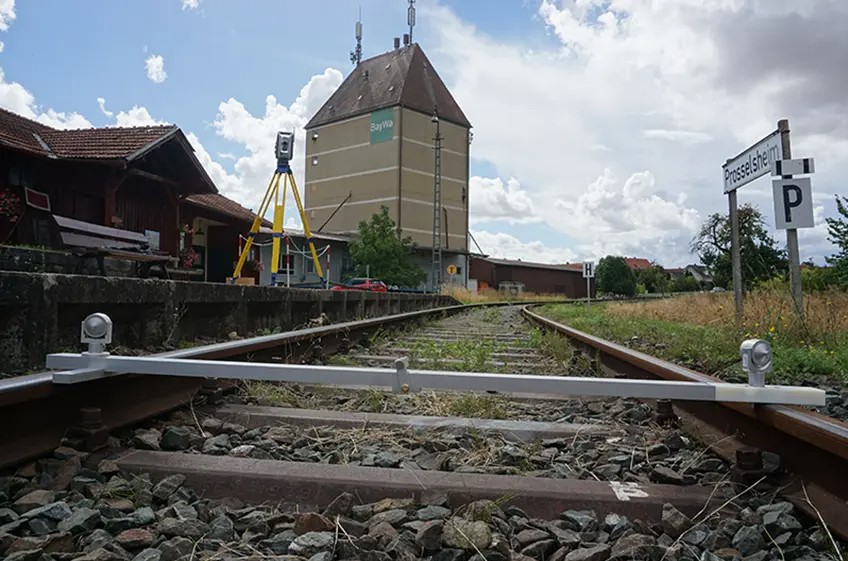 When using one of these Trimble as-built survey methods, the resulting .track file, combined with the coordinates of permanently installed prisms, automatically creates a virtual representation of a railway section in the T4D Rail module. With this process, every chainage and every prism offset are automatically calculated, and users are able to review what has been auto detected before starting the monitoring process. This saves time in the field and office and delivers a more accurate depiction of the track geometry than traditional methods.
Automated analysis & visualization
Errors in rail monitoring can lead to misunderstanding of potential risks, so accuracy and reliability are crucial elements of any monitoring system. Instead of conducting time-intensive manual calculations that are susceptible to mistakes, the T4D Rail module automates calculations for all track geometry parameters, generates analysis charts, and triggers alarms. What would usually take a few days in the office can now be completed in an hour or so, cutting out up to 95% of office work.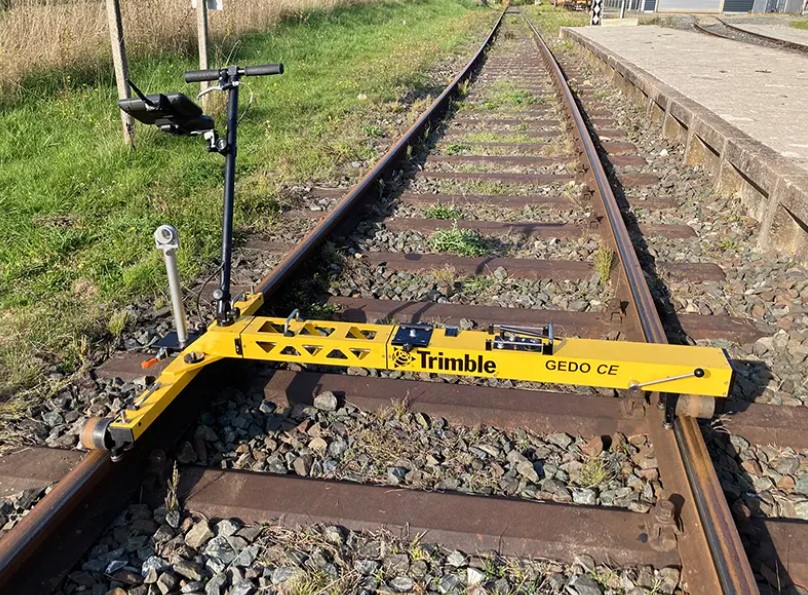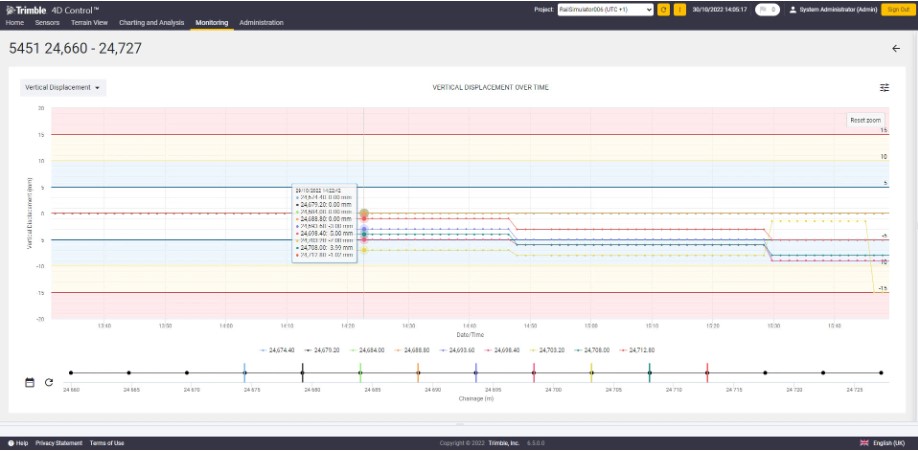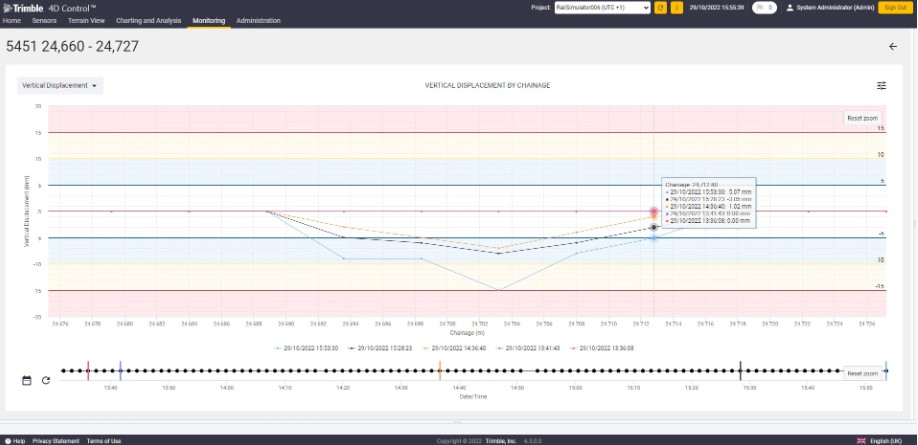 There are two different ways to visualize the data for all automatically calculated rail track geometry parameters on a chart—across epochs or across chainages. The first way helps to quickly notice at which points in time unwanted movement began. The second way helps to signal which sections of the track are concerning. Both chart types have colored rectangular bands to represent the attention (blue), warning (yellow), and alarm (red) thresholds. "The automatic visualization of the configured thresholds in the chart views is just great," said von Matt. At a glance, the severity of any detected movement can be distinguished. Another benefit of the T4D Rail module is the ability to export data into Excel. An organized spreadsheet can be exported with all the required rail track geometry parameters specified by many rail authorities.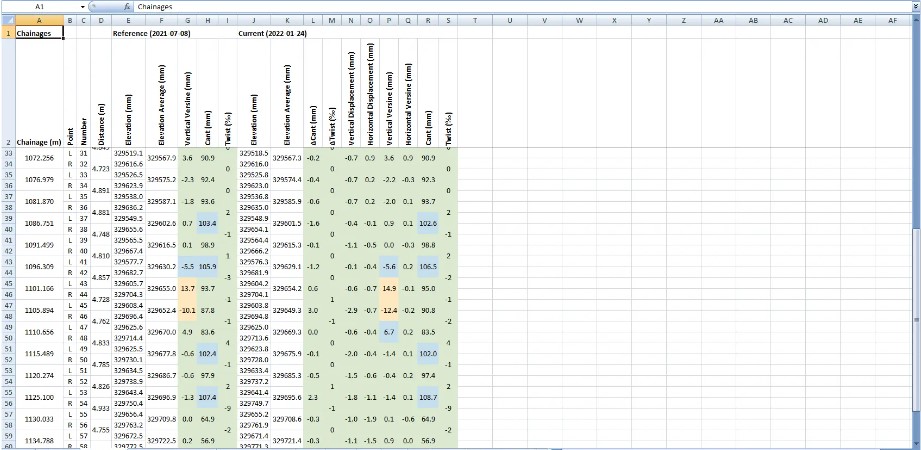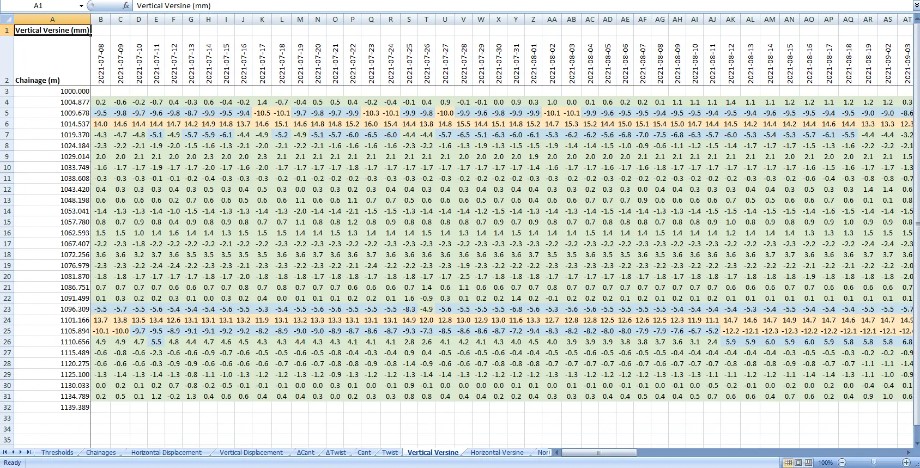 Flexible monitoring & expanded business opportunities
By reducing manual work and personnel costs, one of the biggest expenses companies have today is greatly reduced, especially when considering the skilled labor shortage in the industry. Whether you are collecting manual measurements on a monthly basis or automatically every few minutes, the T4D Rail module will support companies' preferred monitoring schedule. Additional flexibility is delivered through several customizable as-built survey options, charting types, and threshold and alarms settings.
The T4D Rail module expands business opportunities by reducing crew field time and simplifying calculations, which minimizes the learning curve that goes along with sophisticated rail monitoring processes. By automating and streamlining the process, resources can be better utilized on high-impact projects and other business opportunities.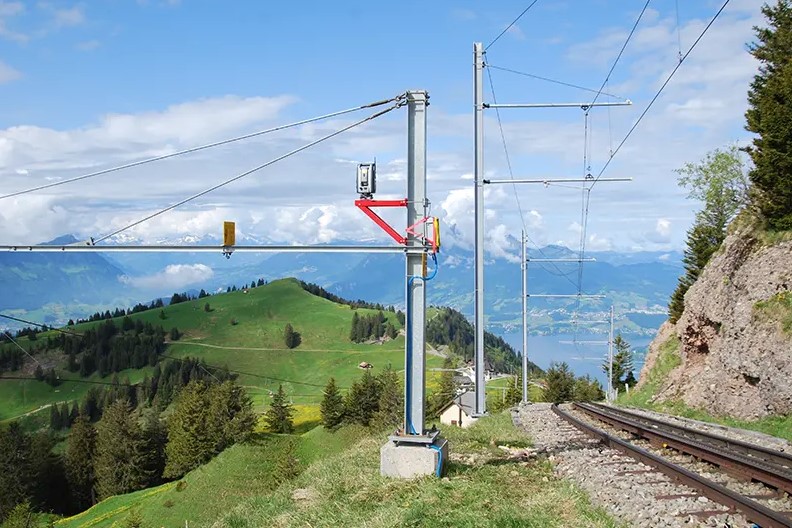 Availability
As of December 6 of 2022, the T4D Rail module is now available. To add the rail module to your T4D software platform, contact the Trimble Monitoring team here or reach out to your local Trimble Distribution Partner.