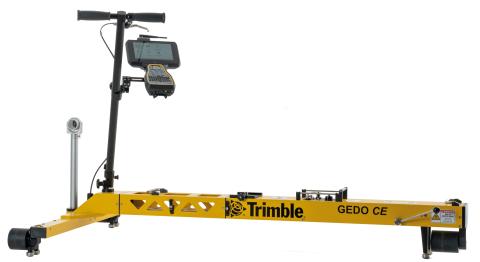 The Trimble GEDO Rec system is used for geodetic track surveying. It consists of the Trimble GEDO CE 2.0 track measurement trolley with a Trimble control unit in combination with a Trimble total station or Trimble GNSS receiver.
When used with a Trimble S-Series total station, the Trimble GEDO track measurement trolley can measure up to 600 m of track (or 1,200 m with two total stations) per hour with millimeter accuracy. When used with a Trimble GNSS receiver, 3,000 m per hour can be measured with centimeter accuracy.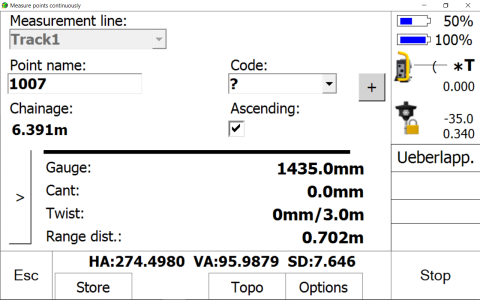 GEDO Rec
Control of geodetic track survey

Capturing of absolute track position with track gauge, superelevation (cant) and twist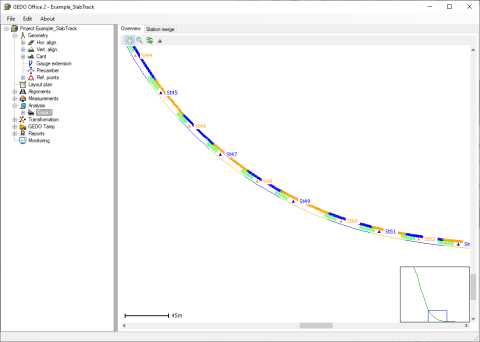 GEDO Office 
Analysis and further processing of GEDO Rec measurements

Station setups and measurement data can be re-calculated in case control point coordinates have changed

Track sections taken from different station setups are merged into one resulting track

Variance comparison between measured track and design alignment

Quality reports for track position

Comparison of measurements from different epochs for track monitoring purposes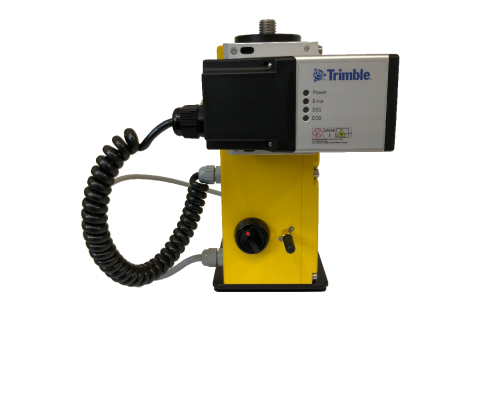 Trimble GEDO Profiler
Optional laser measuring unit for checking track position at control points, as well as for measuring distances to objects close to the track (i.e. structures and platforms). Distances are displayed in relation to the track axis or inner edge of the rail, both perpendicularly and vertically to the cant (superelevation). In addition, points measured with the GEDO Profiler are stored in the geodetic coordinate system.
Trimble GEDO Scan 
By combining Trimble GEDO Scan and Trimble GEDO Rec, a measurement system is created to document the near-track environment. The result is an absolute referenced three-dimensional point cloud. This can be used to obtain information about existing installations and to check the clearance. The data can also form the basis for as-built documentation before and after construction as part of a BIM project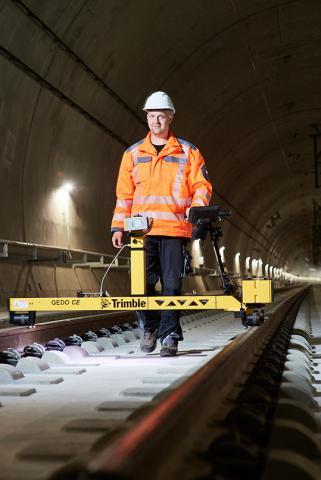 Measurement of the three-dimensional track position, track gauge and cant (superelevation), as well as calculation of twist in one step

Measurement of long track sections possible without full track closure and impact on train traffic

Total station or GNSS based data acquisition for reliable and accurate positioning

Optimized field work through consolidation of results in the office 

Travel chord evaluation for the analysis of the relative track position

Station setup on tripod or secondary trolley

Use of a universal track measurement trolley with modular expansion options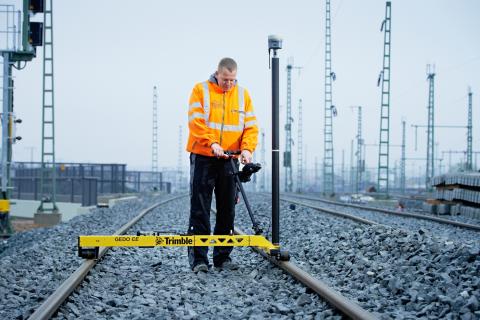 Geodetic track survey as basis for planning of a reconstruction measure 

As-built documentation for GIS systems

Surveillance measurements (monitoring)  

Inspection after a conversion or construction measure

Track as-built documentation after a construction measure